About WE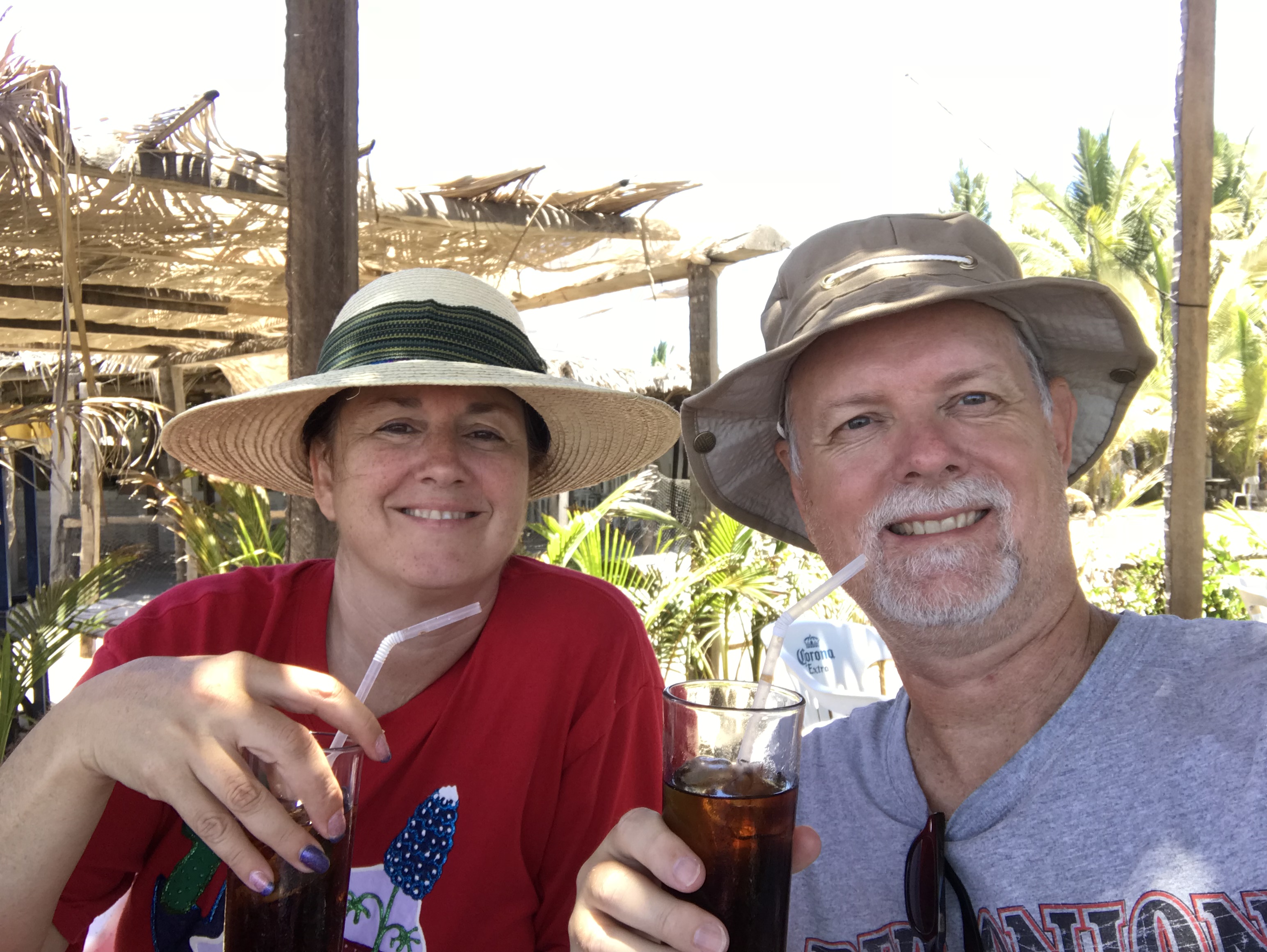 In the last 21+ years, we've been very fortunate to travel together to over 50 countries (52 at last count) on 5 continents. After our early retirement in 2016, the pace of our travels picked up significantly. We also started journaling about our travels, more to keep a historical record of where we''d been and what we did. We knew that, at some point our travels would slow down, and we would surely enjoy reminiscing.
We both enjoyed cruising before we met, and we've now been on 35 cruises together. When possible, we add a land adventure before or after a cruise - or sometimes both! We were recently introduced to stays at all-inclusive resorts in the Dominican Republic and Jamaica. We look forward to adding more resort destinations in the coming years.
While we did some tent camping in our earlier years, we recently graduated to RVing. After three very short term RV rentals, we agreed that we could live part-time in small quarters together while exploring our home country. In mid 2018, we purchased "RV There Yet?", a 2018 Highland Ridge Open Range 2910RL and have never looked back!
We love to find travel deals of any kind - cruises, flights, resorts, RVing ... you name it, we will look into it. Our goal is to turn limited dollars into amazing adventures! We would not describe our travel style as "budget travel", but we do set a pretty healthy annual "travel budget". Fortunately, we have yet to exceed our budget since we are always on the look out for bargains that will make our travels as economical as possible. (Be sure to check out our publication "Top Tips for Discounts on Travel", available to anyone who joins our community.)
Because we are obsessive with our planning and documentation, we seem to be a magnet for questions from fellow travelers about what to see and do. We've even scheduled conference calls with people that we don't know to answer their questions and make recommendations! After so many comments such as "you should be a tour guide" and "we're calling you before we plan our next trip" we began pondering how we could share useful information with other travelers from all around the world. At the urging of friends and family, our detailed plans plus our journals turned into this blog in 2018.
Meet Scott:

After spending 30 years as a software engineer, the last 27 at IBM, Scott is putting his talents to good use as our IT department. His first major solo piece of software was a Portfolio Monitor. It is the program that we used to monitor our savings during our working years. We constantly asked ourselves, "Are we there yet?". Finally, there was a day that we answered ourselves with "Yes, we have saved enough money to retire!" We actually still use the program today - now to make sure that we are staying on track so that we won't run out of money in the future.

As the entire IT Department for this little venture of ours, Scott's most recent project has been the creation of this website. What started at ZERO has come a long way to being what it is today. He made a significant redesign earlier this year and always has more ideas for the future. As you follow along, you will surely notice new bells and whistles from time to time!

Scott started camping as a child. He frequently camped and fished with his younger brother and grandfather near his Missouri home. After graduating from college, he relocated to Florida to begin his professional career. With a large number of reasonably priced cruise options nearby, it was then that his love for cruising started.

Scott also did some limited traveling during his years at IBM. He never enjoyed traveling for work, but did get to go to some interesting international destinations including Canada, England and Ireland. When possible, he added some personal travel days to his business trips to get a taste for life in those countries.

Since his retirement, Scott has become really comfortable with everything that it takes to own and operate a travel trailer. He has been the sole driver when we are towing "RV There Yet?". He also takes primary ownership of the majority of the outdoor tasks - connecting utilities, hooking the trailer to our tow vehicle and even grilling. Scott has always been a do-it-yourselfer, so he jumps right in when something seems not to be working correctly or is broken.
Meet Stacy:

In her entire professional life, JPMorgan Chase (and its predecessors) was the only employer who Stacy worked for. The first few of of her almost 30 years (29 years, 11 months and 4 days, to be exact) was spent in the commercial bank. Her final 24 years were in the retail bank, nearly all in leadership positions. Prior to her retirement, she led a team in the training department as the Executive Director of Management Development Training.

Stacy did some camping and other traveling with her family as a child. When she had vacations during her working years, she traveled as often as possible. She also spent a considerable amount of time as a road warrior during her latter working years. (Our Austin, Texas area home was not the most happening place when it came to the need for management training!)

Stacy accumulated a large bank of hotel and airline miles thanks to her time on the road. We actually continue to use the her remaining points today to help pay for portions of trips. By always striving to get the most value anytime we redeem (5 nights for the price of 4, etc.), we have been amazed at how long we have been able to bank her miles and points. While some would say to use them all as quickly as you can, this strategy has worked well for us.

Stacy is meticulous with keeping tracking of how we spend our money. She jumps at the chance to analyze whether it makes sense to apply for Global Entry, join a camping club, purchase a state or national park pass or a pass offering sightseeing discounts. While she is not a "techie", she loves travel apps including airlines, hotels, local transit operators, parking and more.

In addition to being the person primarily responsible for documenting our travel adventures, Stacy has gotten really good at nagging Scott. From "can you make this change to the website" to "look at this great flight deal" or "I want to go on an African safari" (or some other exotic destination), Stacy is full of ideas. It's all good as she has a strong desire to see the world. While Scott won't always admit it, he does too!
---
Meet The Wordy Explorers Travel Blog:
To help our visitors find their way around, we'll wrap up this "About WE" section with a brief introduction to how our website is organized. First, the tabs across the top:
You can find links to just about everything on our Welcome page;
In order of date (most recent first), our Posts tab has links to all of our blog articles;
We share Curated content from others that we've found interesting and even helpful in planning our own travels;
The Postcards are similar to one you'd get in the mail except that they are digital (all photos are our own);
You can Search on the key words of your choice, even deciding if you want to include original content, curated content and/or postcards;
Use the RSS tab to find a link to load into your favorite RSS Reader;
Direct access to the Portfolio Monitor is available through the Monitor tab; and
You can Login/Signup, make updates to your a profile and download your free copy of "Top Tips for Discounts on Travel" on the rightmost tab.
Just below "Our Latest Posts" on our Welcome page, you'll see Content Categories. This is the easiest way to see all of our original content in each of our main categories:
"RV there yet?" is where we post all original content related to travels in our RV. You'll find information on where we've camped, hikes, menus and even modifications/hacks/repairs that we've made to our RV;
"Are we THERE yet?" is where you'll find our original content from traveling via planes, trains, automobiles, cruise ships ... or any other mode of transportation excluding RV travels. You'll find comments, reviews, tour itineraries, "WE Did It Evaluations" and even contact and booking information for tours that we have taken. For sights that we saw on our own, we always try to provide enough details for others to replicate all or part of our itinerary.
"Are we there YET?" is where our most up to date Portfolio Monitor can be found. It's the program that helps us to ensure that we are still on track with our retirement goals, financially speaking. Knowing that others have similar goals (retire early and travel), our hope is that by allowing access to the same planning tool that we used, others can retire with confidence as well. Do remember that this tool should be used in conjunction with your financial advisor!
We hope you enjoy your visit, and we'd love to hear any comments or suggestions that you have to improve our site! Our goal is to provide valuable information for friends, subscribers and guests planning to travel to places that we have already visited. We hope to see you on social media and to welcome you back to our website soon!


Contact Us

You can contact us by email at: blog.arewethereyet@gmail.com.

Follow Us

Please also follow us at: Follow WE






---