About WE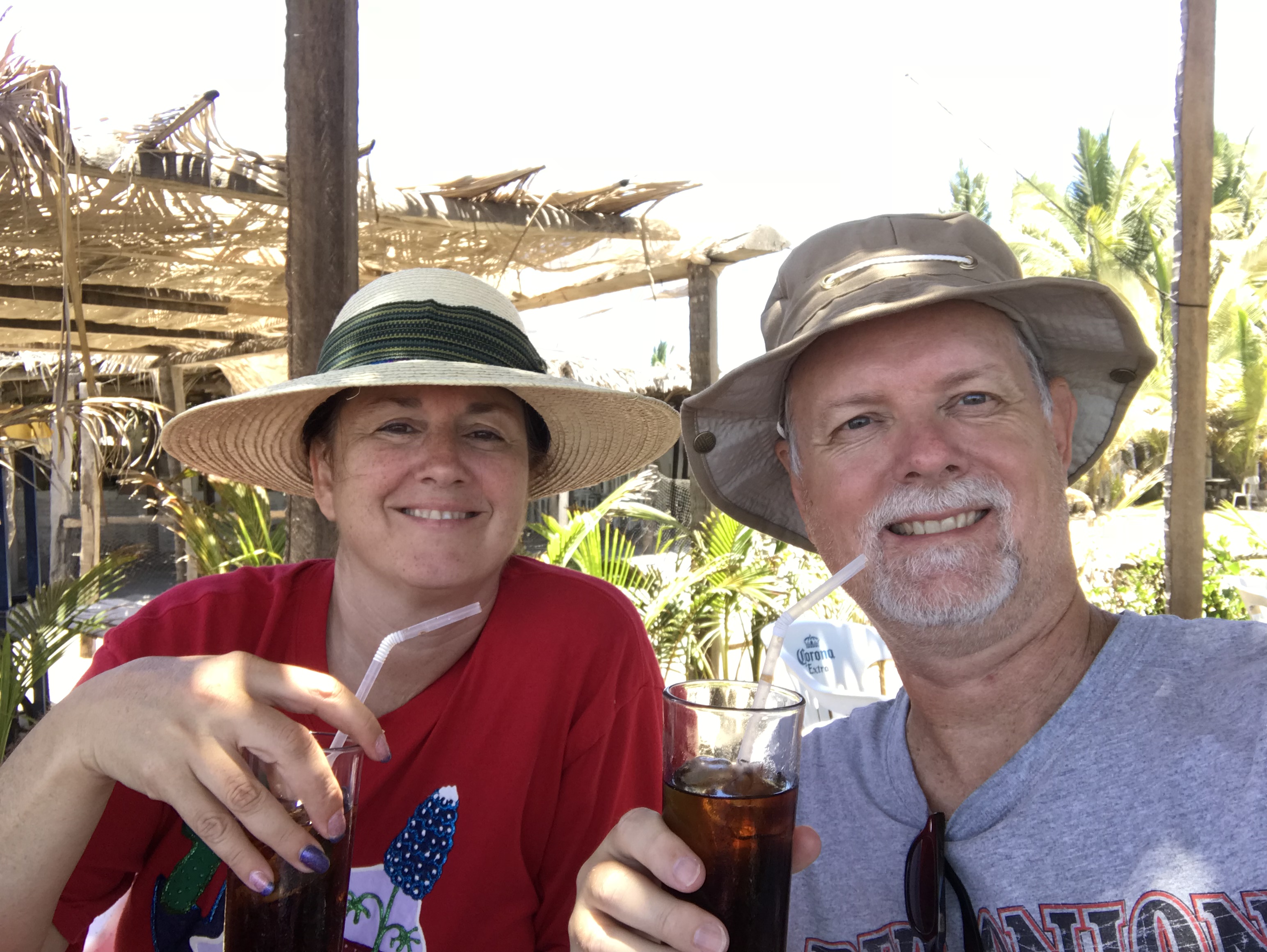 Since we met, we've been very fortunate to have the opportunity to travel to more countries than we can count on 5 different continents together. At the urging of friends and family, we started journaling about our travels shortly after we retired at the age of 52. We both enjoy cruising, and when possible we try to add a land trip either before or after a cruise (or sometimes both). We had also done some tent camping in the past, but Stacy was pretty much done with tents, so we rented a couple of trailers to confirm that we would also enjoy traveling in an RV to see all that the United States has to offer. We are now the proud owners of "RV There Yet?", a 2018 Highland Ridge Open Range 2910RL.
While we can't really say that we are budget travelers, we would describe our traveling as discount or bargain based travel. We try to travel cheap, however there are some places that we want to see where that is just not possible, so we look for bargains and ways to make the total cost of our trip as economical as possible. Although it is very time consuming, requires a lot of work and often tests our patience, we plan the details of the vast majority of our trips on our own. Sometimes we are able to find hints from others with the same goals, and sometimes it is more difficult. After so many "you should be a tour guide" or "we're calling you before we plan our next trip" comments from people, we decided to share some (hopefully) useful information from our travels with anyone who has an interest.
| | |
| --- | --- |
| Scott is the entire IT department behind our small little company. After spending 30 years as a software engineer, the last 27 of them at IBM, he is putting his talents to use on this little venture of ours. His first major piece of software was the program that we used to monitor our savings during our working years ... constantly asking ourselves, "are we there yet?" (i.e. "do we have enough money saved to retire?"). His work truly helped us to see where we were, how much we were spending and how much more we needed to save to do what we really wanted to do - retire and travel. We still use the program today ... now to make sure that we remain on track and won't run out of money! While there are lots of programs available online, this one is a little different from any that we have found as it provides more detailed information including charts and tables that helped us monitor our progress. It's certainly not the only thing that we used to plan for retirement - it was just a tool that worked for us - along with a good financial planner. If you'd like to try it out to supplement the information that you have for retirement planning or tracking, we'd be honored. If it helps you, and you feel inclined to make a donation to our business to help keep the software up to date, you can do so by clicking the "donate" button on the main page. Scott"s most recent project has been the creation of this website ... it started at zero and has come a really long way. As with anything, there's always more to do, so watch for more bells and whistles in the future. | |
| | |
| --- | --- |
| | Stacy had only one employer in her professional life, JPMorgan Chase and its predecessors, where she worked for a total of almost 30 years (29 years, 11 months and 4 days to be exact). She spent much of her time working in the retail training department, most recently as the Executive Director of Management Development Training. During her years at the bank, she spent a lot of time as a road warrior (Austin, Texas was just not the most happening place when it came to the need for training), and therefore accumulated lots of hotel and airline miles which we continue to use today to help pay for portions of trips (always striving to get the most value when anytime we redeem points). In addition to documenting our traveling adventures, she spends most of her time today nagging Scott about where they will go next as she has a very strong desire to see the entire world! |
Our website is divided into three main areas:
RV there yet? - Here's where we post everything related to travels in our RV, which also shares the name "RV There Yet?". You'll find information on places we have camped (along with our impressions of the location), hikes, menus, modifications we've made to our RV and much more!
Are we THERE yet? - Here's where we maintain our blog of traveling via planes, trains, automobiles, cruise ships ... or any other mode of transportation - excluding our RV travels. You'll find contact and booking information on tours that we have taken (as well as our tour itinerary and comments about the tour), sights that we saw on our own, comments/reviews on hotels and cruise ships ... the list goes on and on.
Are we there YET? - Here's where we keep our most up to date program that helps us ensure that we are still on track with our retirement goals, financially speaking. Striving to help others who have goals similar to ours, visitors now have access to the same planning tool that we used in conjunction with our financial advisor to help us prepare to retire so we could spend more time doing what we wanted to be doing ... and that is traveling.
Please take a look around - we hope you enjoy your visit. We would love to hear from you so that we can make the information that we post as valuable as possible to you, our friends, visitors and guests. We hope that you will follow us on social media, and come back again soon. More importantly, we hope to hear from you!

Contact Us
You can contact us by email at: blog.arewethereyet@gmail.com.
Follow Us
Please also follow us at: Follow WE


---
---
---